About Ecolinc
Ecolinc, established in 2005, provides a wide range of exciting and engaging curriculum programs for P-12 students and teachers, addressing the Victorian Essential Learning Standards (AusVELS). The award winning Ecolinc facility incorporates innovative ecologically sustainable design (ESD) elements, providing the perfect venue and model for environmental teaching and learning. Ecolinc is set within a created indigenous grassy/woodland landscape featuring a model wetland, designed to intercept and filter stormwater, and to aid in cooling the facility in summer.
Ecolinc:
provides sustainable environmental programs for students of all ages using the resources of the Bacchus Marsh area and the technology within the Centre
conducts sustainable environmental workshops for the community using the Ecolinc wetland and the ESD principles of the Centre as demonstration models
develops and disseminates educational literature relating to sustainable environments
offers educational tours of the Centre featuring the wetland and ESD principles, and
provides professional development programs relating to environmental sustainability for primary and secondary teachers
---
Ecolinc Logo
The Ecolinc logo is a stylised Growling Grass Frog (Litoria raniformis), an endangered species, which was first observed in the Ecolinc stormwater wetland in 2007. The name Ecolinc refers to the links between the Centre, schools, tertiary institutions, related government and environmental organisations and the community, in relation to sustainable ecology and a range of ecosystems.
---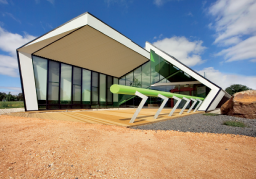 Specialised facilities include
Natural Resource Management laboratory including specialised analytical equipment including atomic absorption (AAS), ultra-violet/visible (UV-VIS) and infrared (IR) spectrophotometers
Horticulture laboratory including micro propagation facilities and glasshouse access
Environmental Resource Centre
Multi purpose demonstration room
Interpretive design display areas
Conference and meeting facilities
Extensive glasshouse, shade house and vegetable garden plots
Composting toilets
Model wetland demonstrating stormwater treatment using indigenous vegetation and provision of habitat for increasing biodiversity
CSIRO weather monitoring station and online Weather Wall
Online building management system (BMS)
---
Model wetland:
The Ecolinc wetland models a complete water recycling and management process, including the collection of stormwater, treatment of contaminants, filtration using indigenous vegetation and provision of habitat for increasing biodiversity. Clean water ultimately flows into the Werribee River as a result of this process. In 2007, the endangered Growling Grass Frog (Litoria raniformis) was discovered in the outlet pool of the wetland. Its characteristic call has been heard each year since then.
---
ESD Features:
High thermal mass acting as a heat source in winter and a heat sink in summer
Double glazing minimizing heat gain and loss within the building
Hot-box heating technology
Natural cross ventilation and thermally driven stack ventilation
North-facing orientation maximizing passive environmental design, particularly winter morning solar gains and natural lighting
Use of rainwater and stormwater